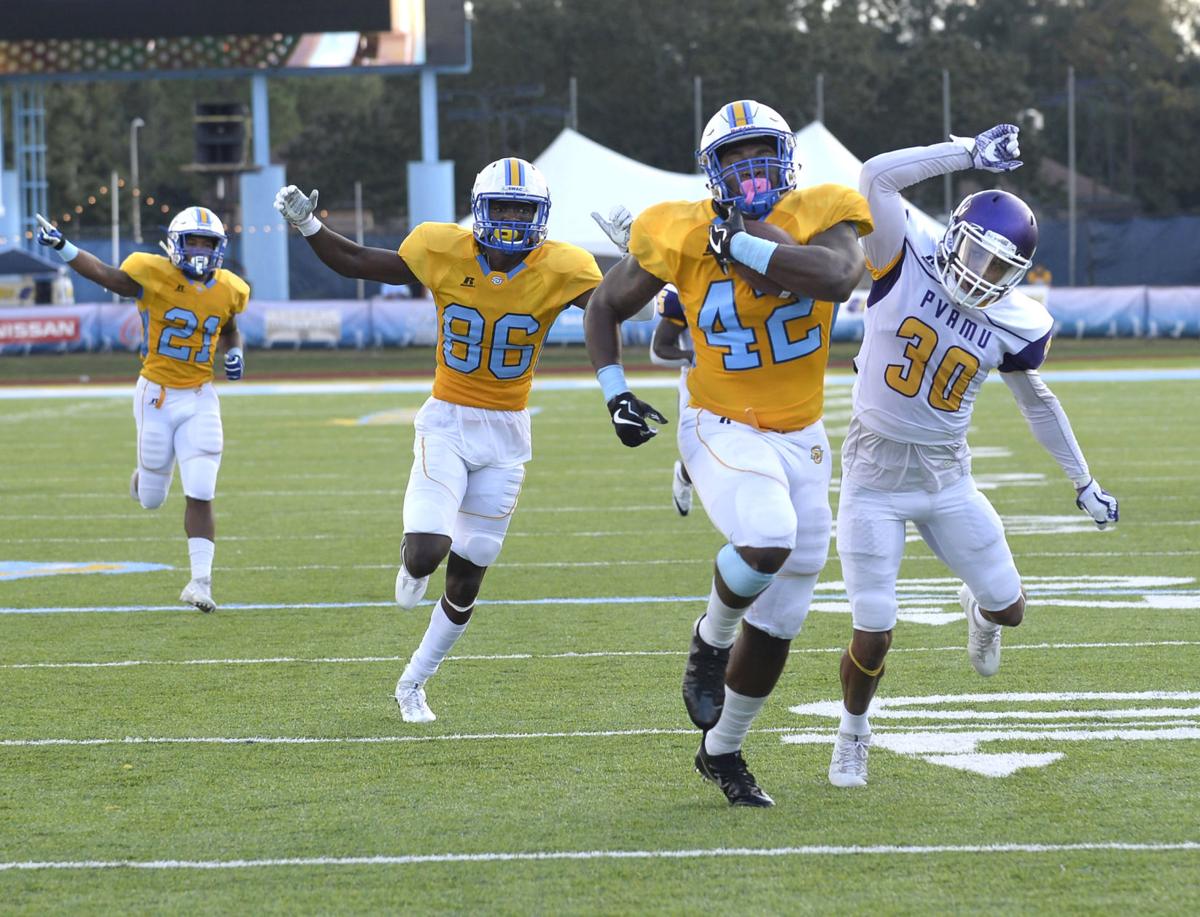 –BR Advocate—
Week 10 of college football basically separated to contenders from the pretenders. Alabama and Georgia looked like contenders while LSU and South Carolina looked like bridesmaids. In SWAC Football, Southern University and Alcorn State produced contender like games as both the Jaguars and Braves won at home to stay in contention for the SWAC title. Southern fought off a tough and proven PVAMU Panther team to win 37-31 in Baton Rouge. QB Austin Howard saved his best for last as the Jaguars celebrated Senior Day on the Bluff. Howard passed for 404 yards and 4 scores to pace the Jaguars. WR K. Catalon caught 6 balls for 175 yards. TE Dillon Beard caught 5 ball for 90 yards and 2 scores. RB Herb Edwards added a score as well. Not to be out done, PVAMU'S QB Niko Hollins passed for 242 yards and 3 scores. RB S. MccRAY rushed for 138 yards and 1 score. The Jaguars held on for dear life at the end to stave off a Panther rally. The win keeps Southern behind Grambling for a possible key showdown in New Orleans. 
—Alcorn State Sports–
Alcorn State, fresh off a bye week needed little time to dispose of the AAMU Bulldogs 47-22 on the reservation. RB P.J. Simmons and DeLance Turner and a long with QB Noah Johnson combined for 416 yards rushing and 5 scores to pace the Braves. AAMU suffered it's second lost and looks like Coach James Spady's seat just over heated again. The Bulldogs were paced by QB Aquill Glass 142 yards passing and 1 score. RB Johnathan Bentley rushed for 134 yards and 1 score as well. 
—GSU Sports—–
The Grambling Tigers fought off a tough and challenging bunch of Lions in Pine Bluff 31-26. UAPB gave the Tigers a run for their money as they matched tit for tat until the Tigers defense rose to the occasion and stop the Lions in the red zone. GSU was paced by QB DeVante Kincade 254 yards passing and 3 scores. UAPB played hard and fought but the G-MEN were a bit too much for the Lions in the end. 
—Bama State Sports—-
Alabama State and interim coach Donald Hill-Eley continue their magical win streak as the Hornets ruined Jackson State's homecoming 13-3. Alabama State defense played lights out against the slumping Tigers limiting them to only 3 points the entire ball game. The Hornets clawed and scratched as QB D. Pearson rushed for 53 yards and 1 score. After building a lead the Hornets kept the Tigers at bey. 
–MVSU athletics
Texas Southern traveled to the Delta and got their first win of the season against a slumping MVSU team 38-21. Coach Haywood struggling with youth on his team finally got the monkey off his back as QB Elijah Odom ran for 172 yards and two touchdowns to pace the Tigers. RB Brad Woodard added 84 yards rushing and another score as well. MVSU was paced by QB Chris Fowler 313 yards passing and 3 scores. WR Q McElfresh caught 5 balls for 135 yards and 3 scores as well.